Lets take a look at this week's releases as per Rotten Tomatoes: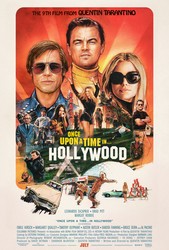 Once Upon a Time In Hollywood

(2019)
92%
Set in 1969, Quentin Tarantino's much-anticipated ninth film centers on an actor (Leonardo DiCaprio), his stunt man (Brad Pitt), and, in some tangential way, Charles Manson.
Starring:
 Leonardo DiCaprio, Brad Pitt, Margot Robbie
Directed By:
 Quentin Tarantino
Ruth's Review: This is the type of movie that you want to be good, but I'm still suspect. I still don;t get how Leonardo DiCaprio and Brad Pitt are leading men, but I am hoping that this id as good as it is being hyped up to be. At least if it stinks, you'll still have Sydney Sweeney's gargoyles to gaze at.